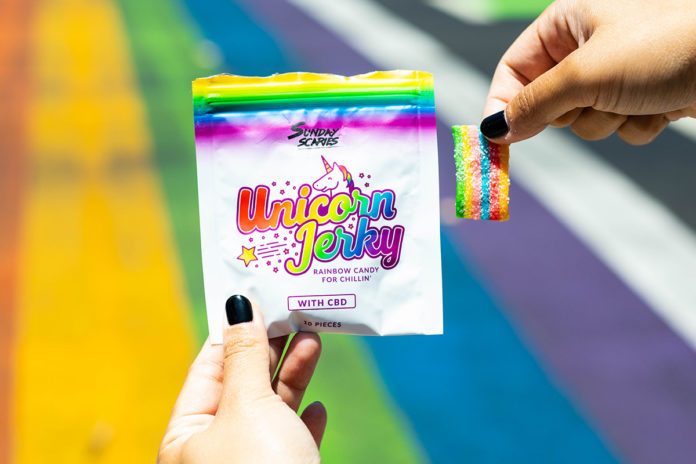 Candy and CBD. What more could one ask for?
Dive right into our site if you want a precise unicorn jerky CBD candy review. Know what you're consuming with us –
We'll help break down the Sunday Scaries Unicorn Jerky CBD Candy's advantages and disadvantages in the following Unicorn Jerky Review. Sunday Scaries has a wide range of products, but the one we'll be focusing on today is a review of their Unicorn Jerky.
 The Facts About Unicorn Jerky CBD Candy
Sunday Scaries offers a wide variety of CBD products, 100% THC-free and available in lower dosages. While this means that you'll need to use more of their products, it does make it easier to manage your dosage levels on a smaller scale.
All of their CBD products are made from eco-friendly organic hemp, sourced directly from farms across the United States. Sunday Scaries promotes the transparency of their company. They offer full disclosure on their CBD products, backed up by ingredient lists, testing, and independent third-party laboratory testing of their products.
 Unicorn Jerky CBD Candy Advantages
   The Sunday Scaries CBD products, including their Unicorn Jerky, include detailed information about dosage, ingredients, laboratory reports, and where their CBD was sourced from.
   The CBD in Unicorn Jerky has sourced from USA organic, non-GMO, eco-friendly farms that practice sustainable farming methods.
   They donate $1 from every Unicorn Jerky CBD product towards the Trever Project, which helps with youth mental health issues.
  Unicorn Jerky CBD Candy is discreet and portable. You can easily carry a package of these around in your bag or purse and discreetly eat one without drawing any attention to yourself.
 Unicorn Jerky CBD Candy Disadvantages
     Unicorn Jerky CBD Candy contains added sugar, flavorings, and also sweeteners.
The Unicorn Jerky CBD is only 10mg per candy strip. While it makes it easier to break up into smaller doses, if you take a lot of CBD, then you're going to have to eat a lot of the candy to get your preferred dosage.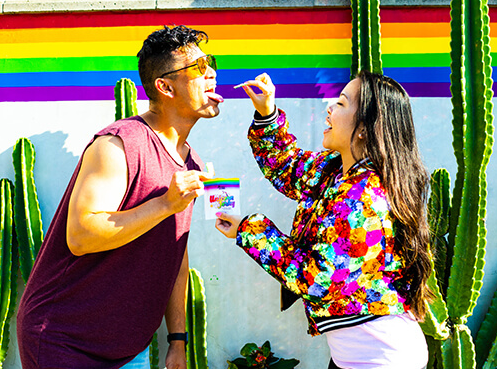 Unicorn Jerky CBD Candy Taste
If you have a sweet tooth, then you're going to love being able to get your daily dose of CBD in a deliciously sweet and sour candy strip. Whenever you feel like you need to have some CBD, you can grab a candy from the bag and pop it into your mouth. Many people have commented online about the sweet taste of Unicorn Jerky CBD Candy and how convenient the smaller dosages are.
Unicorn Jerky Review Conclusion
While there are various CBD candy products available, it's hard to go past a company that is so transparent about their CBD products and where they source their CBD from.
Sunday Scaries is a family-owned business that produces all its CBD products in the United States, using hemp grown in the USA. All their ingredients are sourced from the USA, and they stand behind the environmentally friendly procedures they utilize to produce their range of CBD products.
If you love sweet candy and have been looking to try CBD, then the Unicorn Jerky CBD Candy would be an ideal way to get started.
Try Unicorn Jerky and get 15% off with the promo code: OFFER15.