Not all cosmetic products are gentle with your skin. CBD sugar scrub is a caring touch to revitalize your skin. The CBD based scrub is made of cannabinoid and by reacting with the existing endocannabinoid system, it positively affects your skin. However, getting the best CBD sugar scrub is not easy, so here we present the best CBD scrub for you.
Cannabidiol has excellent anti-inflammation properties. As such, CBD beauty products are becoming increasingly popular. Typically, exfoliating CBD products have a high concentration of cannabidiol, along with the inclusion of other useful ingredients. With that said, what is the best CBD sugar scrub?
With lavender, we believe this is the best CBD sugar scrub to use before sleeping. The sugar scrub effectively exfoliates dry skin, while the CBD works to reduce inflammation, and the lavender ignites a sense of relaxation. Just like with all KushQueen products, this scrub is third-party laboratory tested.
2oz/16oz 100mg CBD
Zero THC guarantee
Third-party tested
Made with Hemp CBD isolate sourced in the USA (Pacific Northwest)
Buyers Guide
This buyer's guide is frequently updated with the latest and best CBD sugar scrub products for exfoliating.
Dealing with flaky skin? Want to reduce inflammation? Fortunately, CBD has shown that it can be beneficial for skin health, especially when it comes to inflammation. CBD works by interacting with the CB1 and CB2 receptors in our body's Endocannabinoid System (ECS). As part of the ECS, these endocannabinoid receptors are found in all key bodily systems.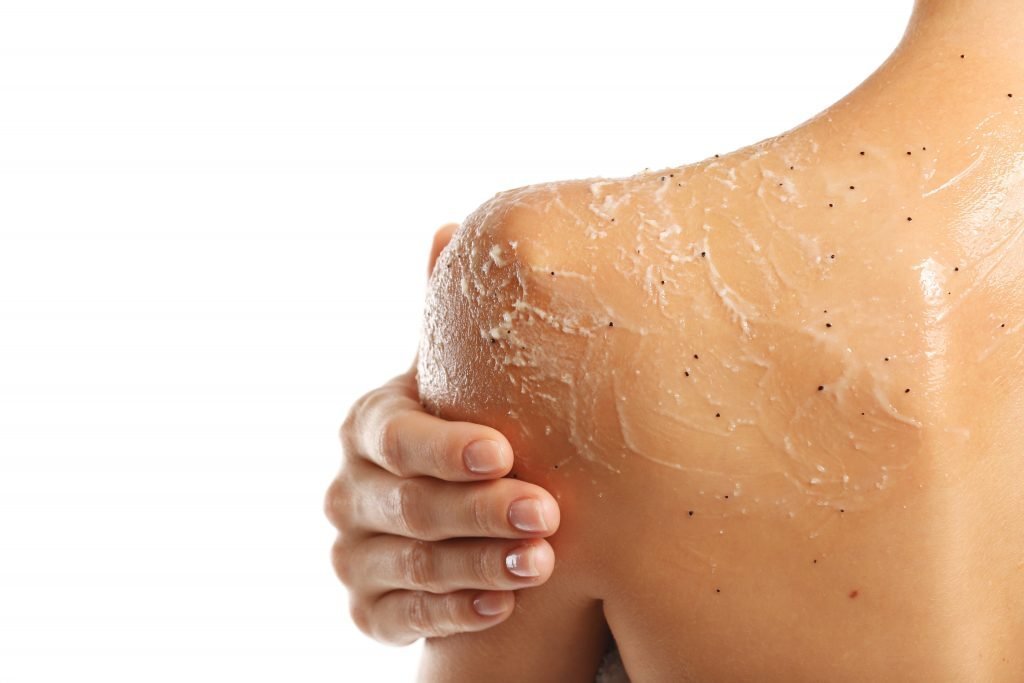 How to find the best CBD sugar scrub?
Want to use cannabidiol scrubs to re-vitalize your skin? Then you should know that not all cosmetic products are made the same standards. There are a number of factors at play, let's delve further.
Whichever brand of CBD product you want to buy, the quality indicators are basically the same. With that said, the other ingredients can make one CBD product better than another CBD product for specific conditions, like flaky skin.
Before deciding on the best cannabidiol sugar scrub, we must first look at the following factors:
Lab results – Some CBD companies publish third-party laboratory results for their products, others don't. To have ultimate confidence in your products, you may want to purchase from a company with transparency.
Ingredients – It's important to check the label of all CBD products you want to put on your skin, especially if you have specific allergies.
Price – Why pay more than you should? With CBD products being rather costly, it's important to make savings where possible! With that said, the cost can defiantly be worth it for the benefits.
Tips for using CBD sugar scrubs
If you're unfamiliar with how to effectively use exfoliates, please follow these simple instructions:
Allow time for the CBD to soak in – When using topical CBD scrubs, you'll want to allow enough time for the cannabidiol to soak into the skin. As such, we recommend leaving the sugar scrub to sit on your skin for a few minutes, instead of washing off immediately.
Gently massage into the skin – Make sure to gently massage the scrub into the skin, so that the scrub can remove dry skin cells, and so your body can absorb as much cannabidiol as possible.
Read the packaging – Make sure to read the instructions carefully before use your CBD sugar scrub.