Topical CBD products are taking the medical and beauty worlds by storm, but what is the best topical CBD for arthritis pain? Typically, topicals for arthritis have a higher concentration of cannabidiol, along with the inclusion of other pain-relieving ingredients. All products in this buyers guide come from reputable manufacturers that only use the very best cannabidiol.
This is the best topical CBD for arthritis sufferers that like to use travel-friendly sprays. This product combines high-quality CBD oil with a host of natural ingredients, resulting in a highly-effective product with a wonderfully-refreshing scent. Utilizing an easy-to-use spray bottle, this is undoubtedly one of the best CBD topical for treating arthritis or joint pain. Simply spray over any areas of pain, and allow the Citizen CBD Pain Spray to work its magic.
In a unique stick shape, this product is our best CBD salve for arthritis pain. This product combines CBD oil, peppermint, menthol, eucalyptus, beeswax, and camphor to calm joint inflammation. This salve is especially useful for when you want to apply your topical CBD without leaving residue on your hands. The cooling stick glides across the skin with ease, and offers great value for money.
This is our best topical CBD for treating arthritis pain, particularly large areas of inflammation. Receptra's product carries an impressive 400mg of CBD per 1oz. The pain-relieving cream is also packed full of nourishing ingredients that are kind to the skin, making it one the best pain-relief CBD products for arthritis on the market.
This is our best CBD lotion for arthritis sufferers who want a water-based lotion that can be spread with ease. The product absorbs rapidly, leaving no oily or sticky residue. For the above reasons, this is our first choice for arthritis sufferers that need to target larger areas of inflammation.
Kush Queen's product also gives a remarkable hot/icy sensation, thanks to the winning combination of 'cooling menthol' and 'warming capsicum'. Finished with a blend of over 20 pain-relieving essential oils, this is certainly a product to try. 
This buyer's guide is frequently updated with the latest and best topical CBD products for arthritis pain. It is common knowledge for those suffering with arthritis that the condition can cause pain that becomes debilitating. As such, any pain-free days are extremely welcome. Fortunately, there are a few products that allow arthritis sufferers to experience more frequent pain-free days.
Conventional painkillers can often result in negative side effects, with the symptoms sometimes being just as bad as the condition itself. Thankfully, research is showing that cannabidiol has the potential to act as a holistic solution to many conditions, like arthritis.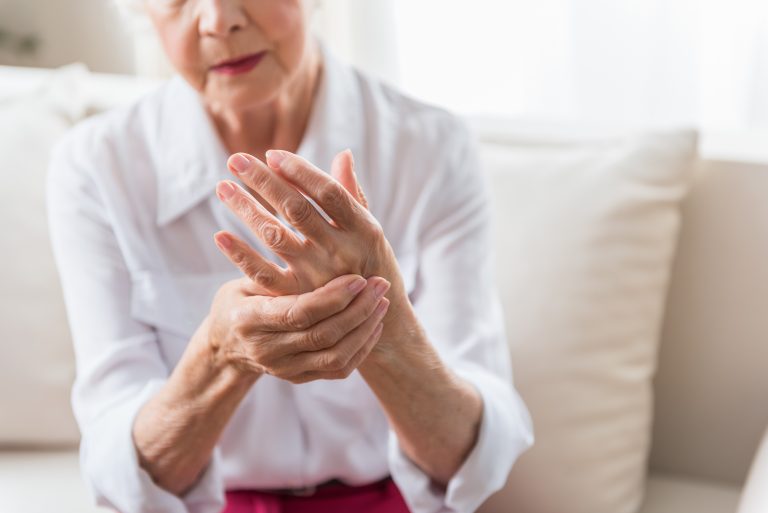 How to find the best CBD topical for arthritis pain?
Thinking about using CBD topicals for your arthritis pain? Then you should know that not all products are made the same. There are a number of factors at play, let's delve further.
Whether you want to use CBD for arthritis or just want to take advantage of the CBD oil health benefits, the main quality indicators are the same. With that said, certain ingredients can make one CBD product better than another for specific conditions, like arthritis.
For example, if you are looking for the best topical CBD for arthritis, the addition of menthol can help to decrease inflammation. The addition of certain oils also makes some topicals ideal for moisturizing and soothing the skin.
There are many reasons to experiment before deciding on the top CBD topical for dealing with arthritis pain. The cannabinoid compound is typically safe, with few side effects. However, it can be tricky to know which products to purchase. When searching for the perfect product for your specific needs, there are a few things to keep in mind:
Lab results – When looking for the best topical CBD product for arthritis pain, you want a product that you can trust. As such, you want to purchase from a CBD company that publishes third-party laboratory results on a regular basis. These results allow consumers to see that the product can be trusted and used confidently.
Ingredients – It's paramount to check the label of all CBD products, especially if you're allergic to specific ingredients. Some CBD products can contain trace level of other ingredients, like THC.
Price – As with all products, you don't want to be paying over the odds. With most CBD products already being rather expensive, you don't want to be paying more than you should be. With that said, can you really put a price on a pain-free life? Some products are worth it.
Tips for applying topical CBD
If you're unfamiliar with how to effectively apply CBD topicals for arthritis pain, follow these simple instructions:
Don't mix topical CBD with other topical products – By applying your CBD topical to product-free skin, you can ensure that your skin absorbs the full amount of cannabidiol. Mixing your CBD topical with other products may minimise the effectiveness.
Allow time for the product to soak in – When using topical products, you need to allow enough time for the product to soak into the skin. As such, we recommend waiting for a few hours before washing or taking part in an activity that will make you sweat.
Massage the CBD into the skin – Make sure to massage the product into the skin so that your body can absorb as much cannabidiol as possible.
Read the packaging – Make sure to read the instructions carefully before applying the topical CBD. Following the specific product information will ensure you get the most out of your CBD topical.