Topical CBD products are taking the medical and beauty worlds by storm, but what is the best topical CBD for arthritis pain? Typically, topicals for arthritis have a higher concentration of cannabidiol, along with the inclusion of other pain-relieving ingredients.
With a thicker and more concentrated solution, this is our best CBD salve for arthritis pain. The first thing you notice when you open the container is the delightful aroma of fresh-lemon. The second thing you will notice is the dense nature of the product. As such, you'll have to slightly dig into the product before applying to your skin. The highly-concentrated consistency makes it perfect for applying to small areas of inflammation, like with arthritis.
The nourishing hemp salve also contains other natural ingredients that reduce dryness and promote softness. Made from natural, food-grade ingredients, the product contains 750mg of CBD!
Ingredients: CBD (cannabidiol), Coconut Oil, Beeswax, Cannabis Sativa Seed Oil, Citrus Medica Limonum (Lemon) Peel Oil, Citral, Vanilla, Vitamin E.
At $64 (or equivalent), this hemp salve may be deemed to be on the expensive side when compared to non-CBD creams. However, this is on par with most high-quality topicals in the industry. At the end of the day, it will come down to your individual budget. If you have the funds, then Endoca's hemp salve is one of the best you can buy. Endoca offer free shipping in the U.S for orders over $74. You can read our full review here or read the reviews on their website by following the link below.
Tip: Use code "CFOLLOW10" for 10% off all orders placed this month.
This is our best CBD cream for arthritis pain that covers larger areas. Combining CBD with a range of butters and oils, Targeted Topical is designed to reduce inflammation and promote efficient recovery. The product is best used when spread over knees, hips, elbows, and wrists. In fact, you may want to use this product over your whole body.
The first thing I noticed when opening the tub was the lovely green color to the topical – It just screams "natural goodness". I ran my finger into the product to get a feel of the consistency – it was a nice balance between runny and thick. We especially love how moisturisng and soothing the cream is. After allowing the product to completely dry, I started to notice an increased mobility in my ankles and feet. 
Ingredients: Shea Butter, Shorea Butter, Coconut Oil, Mango Butter, Beeswax, Emulsifying Wax, Jojoba Oil Infused with Hemp Extract, Camphor, Vitamin E Oil, Arnica Oil, Jasmine, Ylang-Ylang.
$39.95 for the 1.25oz size seems expensive, but with over 400mg of CBD, this product represents fair value for money. The product is available in 1.25oz (400mg CBD) or 2.5oz (800mg CBD) bottle sizes. Read our full review here.
Tip: Use code "CBD15" for 15% off all orders.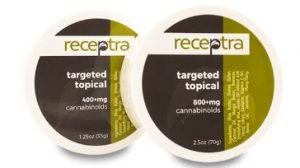 In a unique stick shape, this product is our best CBD cooling salve for arthritis pain. This product combines CBD oil, peppermint, menthol, eucalyptus, beeswax, and camphor to calm joint inflammation. This salve is especially useful for when you want to apply your topical CBD without leaving residue on your hands. The cooling stick glides across the skin with ease, and offers great value for money. The product contains 500mg of CBD per stick.
Ingredients: CBD oil, peppermint, menthol, eucalyptus, beeswax, and camphor.
This is our best CBD lotion for arthritis sufferers who want a water-based lotion that can be spread with ease. The product absorbs rapidly, leaving no oily or sticky residue. For the above reasons, this is our first choice for arthritis sufferers that need to target larger areas of inflammation.
Kush Queen's product also gives a remarkable hot/icy sensation, thanks to the winning combination of 'cooling menthol' and 'warming capsicum'. Finished with a blend of over 20 pain-relieving essential oils, this is certainly a product to try. The product contains 100mg of CBD per 2oz of liquid.
Ingredients: Organic Aloe Leaf Juice, Meadowfoam Seed Oil, Menthol Crystals, Capsicum Fruit Oleoresin, White Camphor Bark Oil, Black Pepper Oil, Roman Chamomile Flower Oil, etc.
Tip: Use code "20OFF" for 20% off all orders.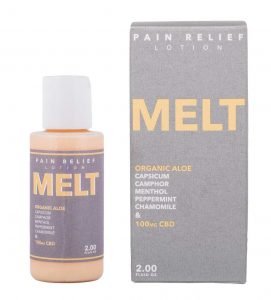 This buyer's guide is frequently updated with the latest and best topical CBD products for arthritis pain. It is common knowledge for those suffering with arthritis that the condition can cause pain that becomes debilitating. As such, any pain-free days are extremely welcome. Fortunately, there are a few products that allow arthritis sufferers to experience more frequent pain-free days.
Conventional painkillers can often result in negative side effects, with the symptoms sometimes being just as bad as the condition itself. Thankfully, research is showing that cannabidiol has the potential to act as a holistic solution to many conditions, like arthritis.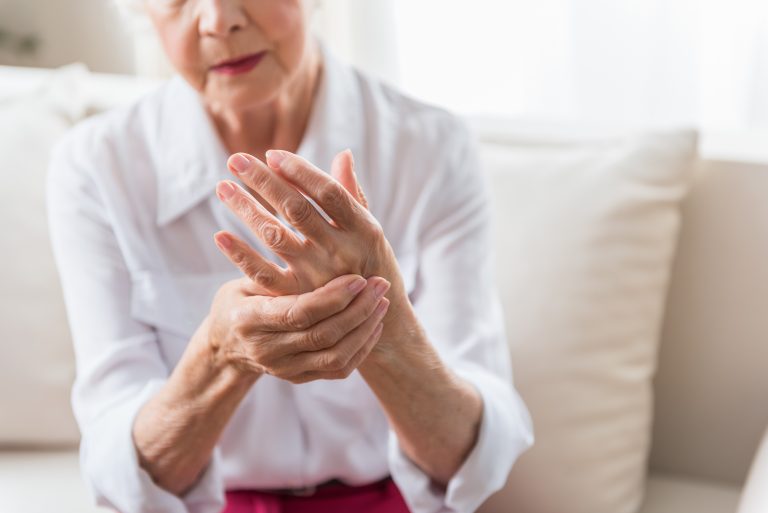 To truly understand arthritis, you first have to understand what the name means. It literally translates to inflammation of the joints. As a rule of thumb, any condition that ends with "itis" refers to some type of inflammation. For instance, encephalitis refers to inflammation of the brain while hepatitis means inflammation of the liver.
The pain that you feel in your joints if you're suffering from arthritis is the direct result of inflammation. There are quite a few symptoms that could arise as a result of arthritis. First of all, patients with arthritis tend to see a reduction in their red blood cell count, which could lead to anemia. Fatigue and loss of appetite are other common symptoms of arthritis. Slight fevers may also develop as a result of the condition. Osteoarthritis develops due to naturally occurring wear and tear on your bones. Genetics and injuries can also increase your odds of developing OA early or hasten its progression.
Rheumatoid arthritis is an autoimmune disorder that occurs when your immune system starts to attack healthy cells. Those who have a family history of rheumatoid arthritis are five times more likely to develop the condition. One of the most important things that you should consider is the importance of regular treatment. If arthritis is left untreated then it could lead to the destruction of both bone and cartilage within your joints.
The benefits of topical CBD on arthritis
As you may already know, CBD has natural anti-inflammatory properties. Arthritis is a condition in which your joints are inflamed, while CBD is a compound that has the potential to reduce inflammation. Naturally, when you put two and two together, you start to see what the applications of CBD are to arthritis patients.
If you want to learn more about the anti-inflammatory properties of CBD and how it can help you with your arthritis, keep reading below as we cover the clinical studies on the topic as well as provide some safety tips if you want to try CBD out for yourself.
Animal studies – CBD has been tested on animals to see if it can really alleviate various inflammatory conditions. The results were very positive with many inflammation-induced conditions — including arthritis — being relieved shortly after the animals received their dose of CBD.
This study found that a topical CBD gel was able to reduce inflammation and overall pain in the joints of rats with arthritis. 
That being said, we should note that humans are an entirely different species from the test subjects and thus may see different results from CBD usage. Still, the positive results in these animal trials are very promising and may confirm the long-held theory that CBD is one of the most effective ways of treating arthritis.
Human trials – There have been some studies conducted on humans to see if arthritis could be treated through the regular use of CBD. Why haven't you heard about this in the headlines then? Well, the testing pools of the group were rather smaller leading scientists to doubt how accurate their conclusions were. The overall quality of the trials has also been questioned by the medical community. Some patients who entered the CBD study had rheumatoid arthritis while others had osteoarthritis.
After running the study for some time and monitoring the condition of the volunteers, the researchers heading the project found that pain was significantly reduced in these arthritis patients — both on OA and RA cases. There has been talk of various studies with larger sample sizes that are currently ongoing and will release their conclusions soon.
Anecdotal evidence of topical CBD on arthritis – Despite human trials being limited, there are thousands of arthritis sufferers that are successfully using CBD products to reduce pain and swelling. We have linked a few testimonials at the bottom of this article.
Safety precautions – Let us start by saying that there have been no side effects associated with CBD and thus if you want to gauge its efficacy against arthritis for yourself then this is generally classified as a low-risk endeavor. That being said, there are a few safety precautions you should take. For example, if you're looking for the best cbd for arthritic fingers, you should only get your CBD products from a trusted manufacturer to ensure that it's pure and contains no other — potentially harmful — chemicals.
Furthermore, if you want to mitigate risk, you should use topical CBD products rather than supplements. There are some people who are allergic to cannabis and thus starting off with topical cream to treat your arthritis is far safer than taking an oral supplement. Start by spreading the topical CBD product on a small area of your skin. If it doesn't become irritated then you can assume that you aren't allergic to cannabis.
In contrast, if you had taken an oral supplement then developed an allergic reaction, resolving the problem wouldn't be as simple as washing a topical cream off. There's also a higher risk of your airways swelling up if you start with an oral supplement rather than a topical cream when trying to treat your arthritis with CBD. Start safe, start topical.
How to find the best CBD topical for arthritic pain?
Thinking about using CBD topicals for your arthritis pain? Then you should know that not all products are made the same. There are a number of factors at play, let's delve further.
Whether you want to use CBD for arthritis or just want to take advantage of the CBD oil health benefits, the main quality indicators are the same. With that said, certain ingredients can make one CBD product better than another for specific conditions, like arthritis.
For example, if you are looking for the best CBD arthritis cream, the addition of menthol can help to decrease inflammation. The addition of certain oils also makes some topicals ideal for moisturizing and soothing the skin.
There are many reasons to experiment before deciding on the top CBD topical for dealing with arthritis pain. The cannabinoid compound is typically safe, with few side effects. However, it can be tricky to know which products to purchase. When searching for the perfect product for your specific needs, there are a few things to keep in mind:
Lab results – When looking to treat rheumatoid arthritis pain, you want a product that you can trust. As such, you want to purchase from a CBD company that publishes third-party laboratory results on a regular basis. These results allow consumers to see that the product can be trusted and used confidently.
Ingredients – It's paramount to check the label of all CBD products, especially if you're allergic to specific ingredients. Some CBD products can contain trace level of other ingredients, like THC.
Price – As with all products, you don't want to be paying over the odds. With most CBD products already being rather expensive, you don't want to be paying more than you should be. With that said, can you really put a price on a pain-free life? Some products are worth it.
How to use topical CBD for arthritis pain
If you're unfamiliar with how to effectively apply CBD topicals for arthritis pain, follow these simple instructions:
Don't mix topical CBD with other topical products – By applying your CBD topical to product-free skin, you can ensure that your skin absorbs the full amount of cannabidiol. Mixing your CBD topical with other products may minimise the effectiveness.
Allow time for the product to soak in – When using topical products, you need to allow enough time for the product to soak into the skin. As such, we recommend waiting for a few hours before washing or taking part in an activity that will make you sweat.
Massage the CBD into the skin – Make sure to massage the product into the skin so that your body can absorb as much cannabidiol as possible.
Read the packaging – Make sure to read the instructions carefully before applying the topical CBD. Following the specific product information will ensure you get the most out of your CBD topical.
Topical CBD for arthritis reviews