CBD gummies are fast becoming one the most popular methods of taking CBD. These tasty-treats provide CBD users with an easy way to medicate themselves, but what are the best CBD gummies for sleep and relaxation?
With a HUGE array of edibles in their store, CBD Infusionz offers some of the best CBD gummies for sleep that money can buy. When purchasing CBD Infusionz Gummies you have the option to purchase Regular (CBD only) or PM (CBD gummies without melatonin).
All items come in the follow CBD strengths: 100mg, 200mg, 600mg, or 1200mg sizes. Meaning Infusionz offer some of the strongest CBD gummies. Full information can be found on their website. Our personal favourites are the blue sour sodas – yum!
Tip: first time buyers qualify for 25% off store wide
Sunday Scaries were made to eliminate manifestations of worry, overcome moral hangovers and deal with everyday frustrations. We use our proprietary blend of the highest quality broad spectrum CBD, Vitamin B12 and Vitamin D3. Our CBD Gummies are the perfect on-the-go solution to eliminating your excessive worrying. They support a relaxed, focused & on-track vibe no matter what day of the week it is. Each bottle contains 20 CBD infused gummies with 10 MG of CBD per gummy and no THC. Hint: they are not THC gummies. These edible calming gummies come in orange, cherry, pineapple, lemon and apple flavors.
Take 2-3 gummies anytime you are feeling agitated or on edge from everyday frustations.
Typical of a product from the Yum Yum brand, these sour gummies are delicious! As with some other gummies in this review, Yum Yum gummies are made with a melatonin proprietary blend, and with so many CBD-infused gummies at your disposal, you'll never be too far away from relaxation. Click here for our in-depth review.
Tip: Use code "WELCOME35" for 35% off everything this week.
If you're looking for the best CBD melatonin gummies for night-time insomnia, and you love juicy watermelon (who doesn't?), then you'll love these CBD-infused watermelon slices. It will come as no surprise that the Relax Gummies were made with one goal in mind – Relaxation. That's why the two main ingredients are industrial hemp cannabidiol (CBD) and melatonin.
Tip: Use code "WELCOME35" for 35% off everything this week.
Buyers Guide
This buyer's guide is frequently updated with the latest and best CBD gummies for sleep and relaxation. One of the most common questions we receive at CBD Authority is "will CBD help me to sleep better". If you're reading this, chances are you want to know the same thing. That's the point here. You're not alone.
In fact, recent reports suggest that  30–35% of adults in the United States are showing symptoms of insomnia. Now, there's a long list of reasons why so many are struggling to sleep. With many of us leading busy lives, stress is one of main culprits of modern-day insomnia. In fact, stress and anxiety are the reason why we suffer in many areas of life. If only we could find a find to reduce stress, and promote calmness instead.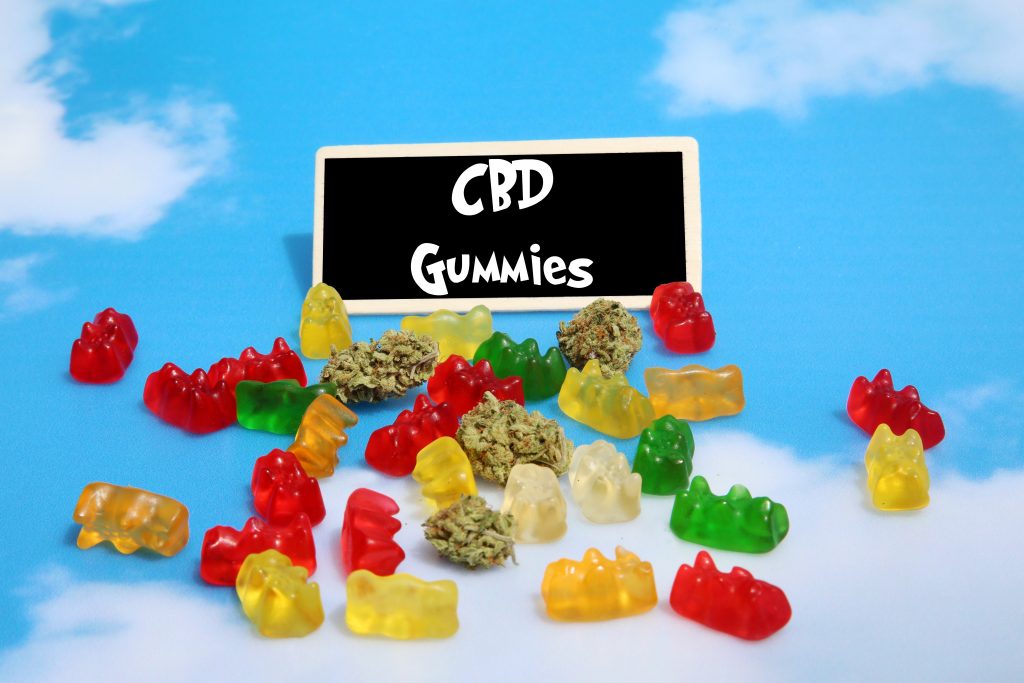 How to find the best CBD sweets for sleep ?
Thinking about using CBD gummies to help you sleep? Then you should know that not all products are made the same. There are a number of factors at play. Let's delve further.
Whatever CBD product you want to use, the quality indicators are basically the same. With that said, additional ingredients can make one CBD product better than another CBD product for specific conditions, like insomnia. For example, if you are looking for the best cannabidiol gummy bears for sleep, the addition melatonin can help defeat insomnia.
There are many reasons to experiment before deciding on the top CBD gummy for relaxing before sleep. The cannabinoid compound is typically safe, and rarely comes with any side effects. However, it can be tricky to know which CBD gummies to purchase. When searching for CBD gummies for insomnia, there are a few things to keep in mind:
Lab results – When looking for the best CBD products for sleep, you want a product that you can trust. As such, you want to purchase from a CBD company that publishes regular third-party laboratory results. These results allow consumers to see that the gummies can be trusted and used with utmost confidence.
Ingredients – It's paramount to check the label on all CBD products before using, especially if there are specific ingredients you may be allergic to. Some CBD gummies can contain trace levels of THC, which some people may want to avoid.
Price – As with all products, you don't want to be paying over the odds. With most CBD products already being rather expensive, you don't want to be paying more than you should be. With that said, can you really put a price on a good night sleep? Some CBD gummies are worth the price tag.