Receptra Targeted Topical Review Summary
Receptra™'s products are well-regarded within CBD circles, and we can see why. With 400mg of CBD per 1.25oz tub, this product is packed full of high-quality cannabinoids and other nourishing ingredients. It's a yes from us! We're also happy to help bring your cost down with our 15% off coupon. Just use the coupon code "CBD15" to take 15% off your entire order.

SEE PRODUCT
Effect
 4.5/5
Quality
 5/5
Price
 4.6/5
About Receptra Naturals
Receptra is a brand that represents transparency and high-quality. In a crowded marketplace, it can be hard knowing which company to trust and reward with your custom. At myCBDauthority, we recommend doing your homework and only using companies with an established history.
Receptra extracts their CBD using cold ethanol extraction. This is the best extraction method is best for preserving terpenes and other cannabinoids. Also, using ethanol picks up on molecules like chlorophyll, so the extracted oil often retains a green color – which is what gives the Targeted Topical its lovely green color.
My experience with Receptra™ Targeted Topical
As you may have read elsewhere on this site, I turned to CBD products soon after I injured my back in the gym. I also found a multitude of benefits when I started my CBD journey, especially the advantages it gave to my anxious feelings. From using topical creams for my back, I quickly realized that the CBD creams were also providing skin benefits, helping to reduce patches of dryness and inflammation.
About – Combining CBD with a range of butters and oils, Targeted Topical is designed to reduce inflammation and promote efficient recovery. The product is available in 1.25oz (400mg CBD) or 2.5oz (800mg CBD) bottle sizes.
Ingredients – Shea Butter, Shorea Butter, Coconut Oil, Mango Butter, Beeswax, Emulsifying Wax, Jojoba Oil Infused with Receptra™ Hemp Extract, Camphor, Vitamin E Oil, Arnica Oil, Jasmine, Ylang-Ylang.
First impression – The first thing I noticed when opening the tub was the lovely green color to the topical – It just screamed "natural goodness". I ran my finger into the product to get a feel of the consistency – it was a nice balance between runny and thick. The consistency of the product allowed for wide-spread use, unlike salves that can be hard to spread. As the product soaked in, I noticed the delightful scent of this topical CBD – very refreshing!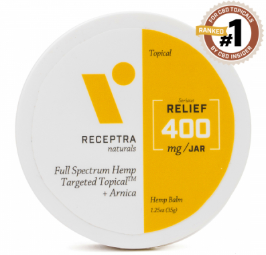 Effect – I had trained legs the day before trying this topical, so I decided to massage the cream into my aching ankles and knees. The thing that really stood out was how moisturisng and soothing the cream was. As such, I placed some onto my dry hands. After allowing the product to completely dry (I may have put too much on – oops!), I noticed that my feet could move more freely.
Price – $39.95 for the 1.25oz size seems expensive, but with 400mg of CBD, this product represents fair value for money. When compared to basic moisturising creams, this product may seem pricey. However, this product has an impressive ingredients list that provides more benefits than cheaper items you would find on the beauty shelf. At the end of the day, it will come down to your individual budget. If you have the funds, then Receptra™ Targeted Topical is one of the best topicals on the market. Also, it will come down to whether the benefits outweigh the cost. What price do you put on reduced inflammation or reduced pain? That's a question only you can answer.
To use, simply run your finger into the product, then rub the cream into the area of inflammation!
Effect
 4.5/5
Quality
 5/5
Price
 4.6/5
Final Thoughts
To conclude, we are impressed with Receptra's™ Targeted Topical. It was especially good for soothing aching joints. We're also happy to help bring your cost down with our 15% off coupon. Just use the coupon code "CBD15" to take 15% off your entire order.

SEE PRODUCT