CBDfx Hemp cream is formulated to soothe muscle and joint pain. These water-based creams help cannabidiol get absorbed through the skin while reducing the pain. CBDfx strictly follows the process of making organic CBD-based products that cause little to no side effects on the skin. You can get them at affordable prices along with coupon codes.
CBDfx Hemp Cream Review Summary
CBDfx is one of the highest-quality CBD companies on the market, and their Hemp Cream is no different. With 150mg of CBD per 50ml bottle, we especially loved the cooling-effect of this product. The pump-action design makes it easy to apply the product, while the cream effectively worked to reduce inflammation. Thumbs up from us!

SEE PRODUCT
Effect
 4.4/5
Quality
 5/5
Price
 4.4/5
About CBDfx
It's safe to say that CBDfx is a company that is expanding rapidly. With roots in vape products, CBDfx have quickly transitioned into a full-blown CBD treasure-trove. In fact, CBDfx can be seen as an enterprising company that is forever innovating and keeping up with the latest in CBD research and market trends. In a crowded marketplace, it can be hard knowing which company to trust and reward with your custom. At myCBDauthority, we recommend doing your homework and only using companies that receive positive reviews.
Established in 2015, CBDfx use organic hemp plants that are extracted in Southern California labs. CBDfx are dedicated to provide the purest supplement experience possible by providing access to products that are always organic, refreshingly innovative, and lovingly crafted.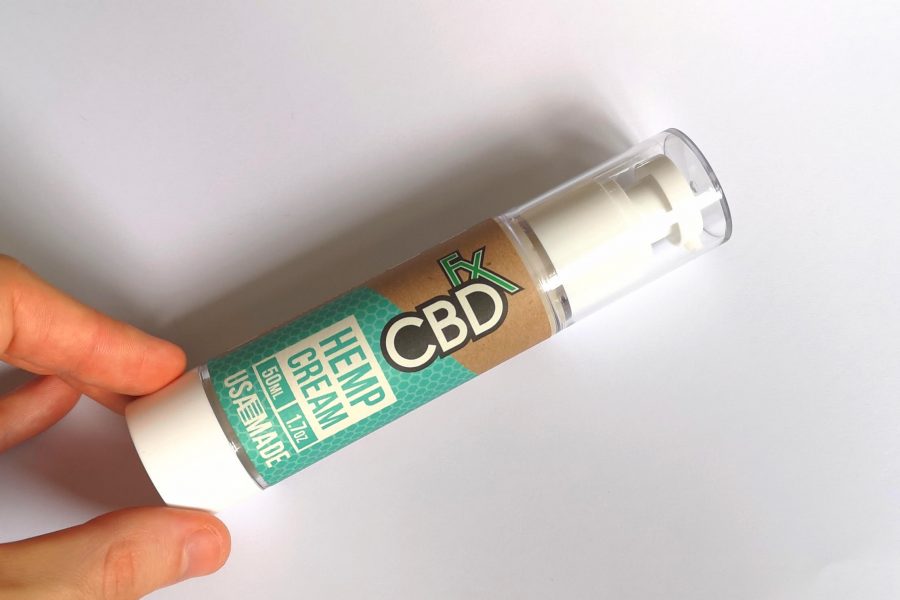 My experience with CBDfx Hemp Cream
As you may have read elsewhere on this site, I turned to CBD products soon after I injured my back in the gym. I also found a multitude of benefits when I started my CBD journey, especially the advantages it gave to my anxious feelings. From using topical creams for my back, I quickly realized that the CBD creams were also providing skin benefits, helping to reduce patches of dryness and inflammation.
About – Combining full-spectrum help extract and cooling-menthol, the CBDfx Hemp Cream is designed to provide localized pain relief. The product is available in 30ml (100mg CBD) or 50ml (150mg CBD) bottle sizes.
Ingredients – USP Water, Menthol, Hydroxylated Lecithin, Acrylic Polymer, Caffeine Anhydrous, Sodium Bicarbonate, White Willow Bark Extract 98%, Organic Hemp Oil, Tocopheryl Acetate, and Sodium Benzoate.
Menthol and white willow bark are two proven natural analgesics (pain relievers). The addition of caffeine helps to stimulate blood flow and helps ease inflammation.
First impression – The first thing I noticed when un-boxing my package was the unique container to this cream. I removed the top, and gently pressed down on the pump. Out came a white cream with a thin consistency. I applied the cream to my wrists and elbows, and then let the product soak in for a few minutes. As the product soaked in, I noticed the cool scent of this hemp cream – very refreshing!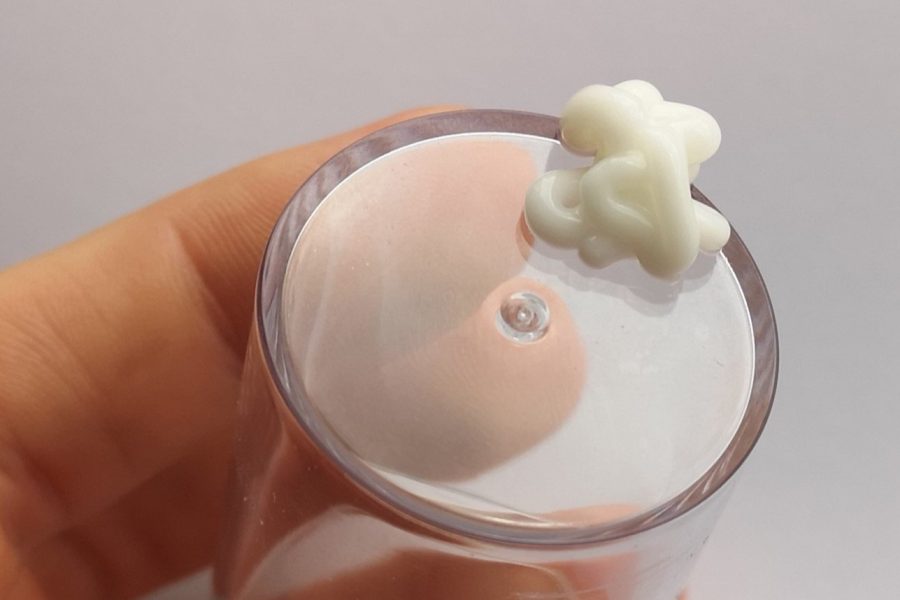 Effect – Within minutes of applying the cream to my wrists and elbows, I noticed an immediate cooling effect to my skin, especially on my wrists. It felt like I could actually feel the product working, which was nice. After the product completely dried, I could still feel the CBD and menthol working, but there wasn't any residue or greasiness.
As I type this with the bottle of cream on my desk, I realize the size of the bottle is ideal for placing in small bags and even pockets – perfect for on-the-go relief.
Price – $39.99 for the largest size represents fair value for money. On par with many other products in the CBD industry, this hemp cream may be deemed to be on the expensive side when compared to standard creams. However, this product is of higher-quality and provides far more benefits than typical topicals on the beauty shelf. At the end of the day, it will come down to your individual budget. If you have the funds, then CBDfx's Hemp Cream is one of the best menthol CBD creams on the market. Also, it will come down to whether the benefits outweigh the cost. What price do you put on reduced inflammation or reduced pain? That's a question only you can answer.
Laboratory results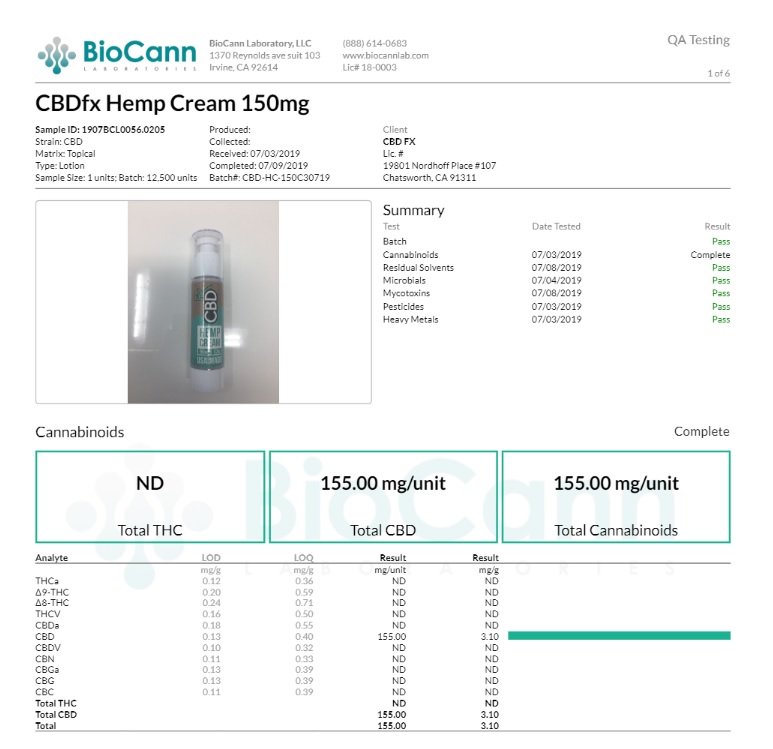 How to use CBDfx Hemp Cream
As with all CBD topicals, just pump a small amount of cream onto your hand, and then rub into the target area! With the product being pricey, you may want to be gentle on the pump. We've all been there when you press too hard on the pump and half of the bottle comes out!
CBDfx Hemp Cream testimonials

Effect
 4.4/5
Quality
 5/5
Price
 4.4/5
Final Words
To conclude, we are very happy with how the CBDfx Hemp Cream worked for us. The product done exactly what it was supposed to do: relieve pain and inflammation.
We especially love the inclusion of caffeine and menthol, which we feel really gives this cream an edge over similar pain creams on the market. The icy feeling of this product lasted 2 hours, which means some may want to use this product more frequently, although the cream has an ergonomic design that makes it easy to top-up as you go about your day.

SEE PRODUCT