There are many disposable CBD vape pens available on the market. CBD vape pens are infused with cannabinol which is good for medical purposes. When you use a vape pen, the cannabinol in it reaches the body via the lungs and starts producing a reaction within minutes. However, some CBDs contain THC. If you are allergic to THC, you should avoid using that product.
With vaping CBD shown to have many benefits, what are the most amazing disposable CBD vape pens? All products in this buyer's guide come from reputable manufacturers that only use cannabidiol from trusted sources. Without further ado, here are our most suitable disposable CBD vape pens:
2 Incredible Disposable CBD Vape Pens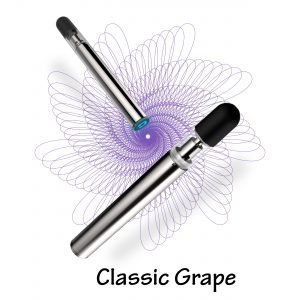 With a massive 200mg of CBD per pen, this is our most popular disposable CBD vape pen for those who want an affordable product with a delicious flavor profile. Just like with the gummies, CBD Infusionz's disposable vape pens come in a huge array of flavors – our favourite being the Classic Grape! These CBD vape pens are specially formulated using Colorado-grown CBD Isolate, solvent-less Tec Temper Oil, and natural flavor terpenes.
200mg of CBD per pen
Natural, Organic, and Food Grade
100% FREE of PG, VG, or MCT
Produced in ISO Certified Facility to ensure consistency
CBD Isolate from Colorado-grown hemp
---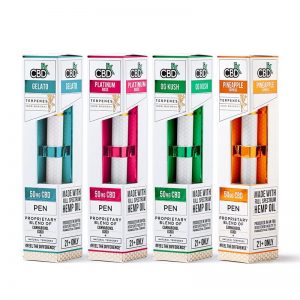 These are our most suitable disposable CBD vape pens for those who want terpene-rich CBD. CBDFX is one of the most well-respected cannabidiol companies, and you can read lab results for every product they produce. With 50mg of CBD inside each pen, this product is perfect for those who want to try a few different flavours – We recommend their bundle 4 pack.
50mg of CBD per pen
3rd party lab batch reports
Quick absorption
---
Buyers Guide
This buyer's guide is frequently updated with the latest and most popular disposable CBD vape pens.
When cannabidiol is vaped, the compound enters your bloodstream nearly immediately (within minutes) via your lungs. When it comes to immediately feel the effects, there is no better delivery system.
CBD works by interacting with the CB1 and CB2 receptors in our body's Endocannabinoid System (ECS). As part of the ECS, these endocannabinoid receptors are found in all key bodily systems. Thus, allowing cannabidiol to provide a whole host of medical benefits to users.
How To Find The Perfect Disposable CBD Vape Pens?
Thinking about taking advantage of CBD's benefits by using disposable vape pens? Then you should know that not all products in this industry are made to the same standards. There are a number of factors at play. Let's begin.
Whether you want to inhale CBD vapour, ingest it orally, or use a topical CBD product, the quality indicators for each type of product are basically the same.
There are many reasons to experiment before deciding on the most suitable CBD vape pens for vaping. Vaping CBD is not known to come with any serious side effects. However, with so many products on the market, it's important to do your product research. Here's what you should keep in mind:
Lab results – When looking for the perfect CBD oil vape pens, you want a product that you can trust. As such, you want to purchase from a CBD company that publishes third-party laboratory results on a regular basis, like CBDFX. These results allow consumers to see that the product can be trusted and used confidently.
Ingredients – It's paramount to check the label of your CBD vape pens, especially if you're allergic to specific ingredients. Some CBD can contain trace levels of other ingredients, like THC.
Price – Let's be honest, CBD products can be expensive. While some CBD products are definitely worth the price tag, you don't want to be taken advantage of. We believe all products in this review represent great value to the consumer.
Closing Thoughts 
A team of seasoned hemp cannabis industry experts compiled this list of the top CBD vape pens. The brands on this list are producers of CBD vape pens that satisfy the highest quality requirements, as determined by a patented multi-point scale that takes into account manufacturing techniques, dose, ingredient sourcing, third-party testing, and qualitative data such as user feedback. Brands on this list have their accessible CBD vape pens rigorously evaluated in order to beat out the competition for a spot on our list.
You can also check: