Athletes or people who engage in many physical exercises use CBD creams and salve, ointment, spray, or balm that promotes healing or protection of the skin. CBD salve and creams are readily available in the market at affordable prices and potentially heal any kind of sports injury while immediately reducing pain and soothing the injured area.
As a sports athlete, you've likely picked up an injury or two during your career. As someone who injured his back in the gym, I know how serious injuries can be. Working as a natural alternative to ibuprofen and other painkillers, what is the perfect CBD for sports injuries?
What are the potential benefits of CBD for athletes?
Applying CBD oil to the skin may help promote quicker wound healing, lessen blistering, and soothe pain, according to research trusted source that looked at CBD oil in three people with epidermolysis bullosa, a rare illness that produces blistering skin.
Although these preliminary findings are encouraging, more research is necessary to fully comprehend the advantages of using CBD oil to treat skin ailments.
Since salves are used topically, there is extremely little chance that CBD will reach the bloodstream. Therefore, CBD is unlikely to result in any impairment that would have a negative impact on sports performance.
2 Effective CBD For Sports Injuries
With a thicker and more concentrated solution, this is our most suitable CBD salve for sports injuries. The first thing you notice when you open the container is the delightful aroma of fresh lemon. The second thing you will notice is the dense nature of the product. As such, you'll have to dig into the product before you can apply it. The highly-concentrated consistency makes it perfect for applying to small areas of inflammation, like tendonitis. The nourishing hemp salve also contains other natural ingredients that reduce dryness and promote softness. Made from natural, food-grade ingredients.
Ingredients: CBD (cannabidiol), Coconut Oil, Beeswax, Cannabis Sativa Seed Oil, Citrus Medica Limonum (Lemon) Peel Oil, Citral, Vanilla, Vitamin E.
---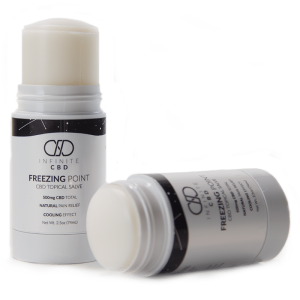 With added menthol, this is our perfect CBD menthol for sports injuries. Infinite CBD combines CBD oil, peppermint, menthol, eucalyptus, and camphor to create a product to calm joint inflammation. The cream is available in three sizes: 2oz 250mg, 2oz 1000mg, and 8oz 1000mg. The freezing cream glides across the skin with ease and offers great value for money.
Ingredients: CBD oil, peppermint, menthol, eucalyptus, and camphor
---
Pros and cons of using CBD for athletes
Pros
Improved sleep
Diminution of tissue inflammation
Opioid substitute
Muscle healing naturally
Helps heal sprains and wounds
Can be used at home or while traveling
Cons
You could fail a drug test if you utilize full-spectrum products.
Adverse social stigma
Does CBD Oil Help With Injuries?
The early evidence is showing that cannabinoids and athletic performance go hand in hand. With that said, how does CBD oil work to benefit the recovery process of sporting injuries?
Essentially, CBD works by activating the endocannabinoid system. The endocannabinoid system has a direct relationship with other key bodily systems, like the immune system. By activating the endocannabinoid cells in our bodies, CBD works to provide many benefits. With that said, what are the specific properties of CBD oil that make it such a great injury management tool?
Inflammation – The effect of cannabinoids on inflammation has been researched on a grand scale. These studies show that CBD is able to reduce inflammation. The anti-inflammatory properties of CBD products help to prevent pain from sports-related injuries or sore joints. Inflammation can also act as the root cause of some injuries, so by taking CBD we can actually prevent future injuries from ever happening.
Sleep – Cannabidiol supplements actively engage with the brain's CB2 receptors responsible for regulating sleep cycles. Let's be honest, sleep is extremely important for everyone who wants to be healthy. With that said, if you're trying to recover from an injury, then sleeps becomes absolutely vital! Taking CBD should give your injury the rest needed to repair and grow stronger.
Pain – If you've got an injury, chances are you are also experiencing some level of pain. This chronic pain is usually caused by inflammation within the joints and muscles, which is why CBD's anti-inflammatory properties are so effective. CBD works with the endocannabinoid system to reduce pain.
Which form of CBD is perfect for injuries?
CBD can be taken in a number of ways, but which form of CBD is most suitable for managing injuries? The form of CBD and the method you choose to consume CBD are your choices. Combining multiple methods will give you a dual approach to tackling even the most painful flare-up – which is exactly what I do. Topical products, tinctures, capsules, and edibles are the most popular types of CBD products for injury pain. Here is a breakdown of each type:
Topicals – Mainly used for dealing with inflammation and sore joints, CBD topicals are an ideal form of CBD for sports injuries. Topical CBD products allow you to target specific areas of the body, making them perfect for injuries or achy joints.
Tinctures – The most popular way to take CBD, tinctures are taken sublingually, which means dropping the CBD liquid underneath the tongue.  By taking your CBD sublingually, the CBD enters your bloodstream directly through mucous membranes in your mouth, completely bypassing the digestive tract.
Edibles – This involves infusing CBD into food products, like chocolate or hard candy. Ideal for those who like to incorporate CBD into their daily life, these edibles allow users to treat their injury pain in a discreet manner.
Capsules – This is my personal favourite way to take cannabidiol. Capsules are great they make it impossible for any administration errors to be made.
Will CBD cause drug interaction?
CBD has been shown to inhibit the cytochrome P450 system's ability to metabolize some medications, which can lead to higher levels of some drugs in the system at one time.
CBD won't necessarily cause problems if you're taking other drugs, but we recommend speaking to your doctor before doing so. Topical does not cause a drug interaction since it isn't digested and doesn't make its way through the liver or interact with the cytochrome P450 system.
Should doctors and medical professionals use CBD in sports medicine?
Despite there being an overwhelming amount of both scientific and anecdotal evidence, cannabidiol research needs to become more sophisticated before it can be prescribed by doctors and medical professionals.
However, from my own personal experience in dealing with a bulging spinal disc, I know CBD to be one of the perfect medical treatments for sports injuries. In fact, I still rely on capsules and topical CBD to live a pain-free life! If you'd like to learn more about how CBD helped my sports injury.
Conclusion
In conclusion, it's safe to say that CBD's benefits for sports injuries are clear to see. As the research develops, I'm sure we will learn even more about the role of CBD and sports injuries. Have you used CBD to deal with an injury? We always love to hear from you. Leave a comment below or reach out via one of our social channels.
You can also check: