Ageing is a natural process but due to rising pollution many faces its signs on their faces before a particular age. Anti aging CBD serum work to purify your skin by curing all impurities and inflammation. It is full of antioxidants, and natural extracts that provide important nourishment. After consistent use, you can get flawless-looking skin.
Unfortunately, getting older is inevitable for all of us. The good news is that research shows topical CBD can slow down the aging process by fighting inflammation, soothing skin, and encouraging sebum production. With that said, what is the best anti aging CBD serum? Let's find out.
Best Anti Aging CBD Serum – Review
With 250mg of full-spectrum CBD in each bottle, this is our best anti aging CBD face serum. Alongside the full-spectrum CBD oil, the CBDFX serum includes critical essential oils and extracts (like jojoba, red raspberry seed, and bergamot) to nourish your skin.  CBDFX recommend incorporating this serum into your daily skincare regimen by patting the CBD serum evenly across your entire face and neck after washing.
250mg of full-spectrum CBD (30mL)
Truly vegan with no animal products or harmful ingredients like parabens or phthalates
Made in the USA
Contains: 250mg Full Spectrum Hemp oil, Orange, Vetiver, Lavender, Frankincense, Bergamot FCF, Rosella, Vitamin E, Chamomile, Rosemary, Rose, Jasmine, Argan, Jojoba, Rosehip, Tamanu, Marula, Grapeseed, Calendula, Carrot Seed, Shea Butter, and more
Preserve your youthful glow with this nutrient-rich botanical formula that promotes even skin tone and deep hydration. We infused our luxe, oil-based formula with 250mg of CBD. It is also packed with brightening, hydrating and antioxidant properties from Bakuchiol Seed Oil, Sea Buckthorn Oil, Meadowfoam Seed Oil, and Squalane.
29.5mL bottle containing 250mg CBD
Contains Carthamus Tinctorius (Safflower) Seed Oil, Squalane, Rosa Moschata Seed Oil, Cannabidiol (Broad Spectrum CBD Hemp Oil), Natural Fragrance, Hippophae Rhamnoides (Sea Buckthorn) Oil, Limnanthes Alba (Meadowfoam) Seed Oil, Cannabis Sativa Seed Oil, Ubiquinone, Bakuchiol29.5ml
Buyers Guide
This buyer's guide is frequently updated with the latest and best CBD anti aging serum. If you've spent any amount of time researching CBD, you'll know that the studies are showing some promising results. With that said, here's how topical CBD can act as a useful anti aging solution:
Fights inflammation – CBD has anti-inflammatory properties that allows for reduced redness and inflammation. By mixing CBD with other helpful ingredients, like omega 3 and gamma linoleic acid, you have the perfect anti-inflammatory beauty product. Studies also show that CBD beauty products directly reduce inflammation in your sebocytes. Research shows that CBD may reduce oxidative stress, which includes topical application. Oxidative stress is the major cause of inflammation.
Soothes skin – CBD binds to receptors in the skin, called TRPV-1 receptors. By binding to these receptors, CBD helps to relieve itchy, hot, or irritated skin.
Encourages sebum production – Applying CBD topically regulates sebum (oil) production, so that your oil glands only produce the necessary amount. With the correct sebum levels, your skin stays more supple, and the look of wrinkles are minimized.
Antioxidant – CBD has powerful antioxidant properties, which help to get rid of the free-radicals that attack your collagen fibers. By using a topical CBD for anti aging, you allow the natural antioxidants to penetrate your skin.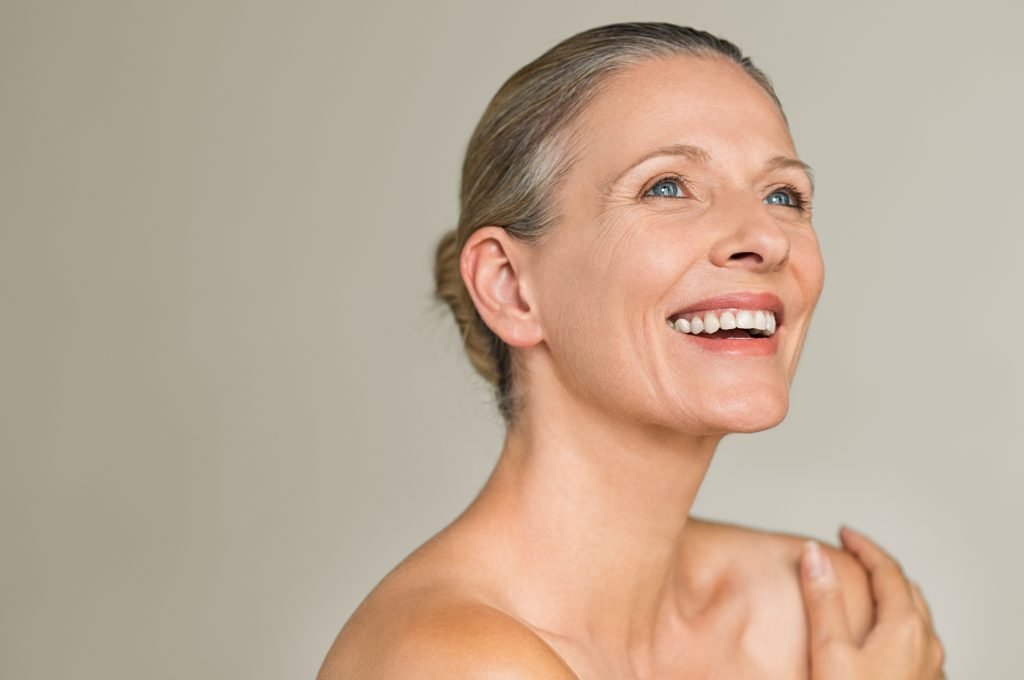 How to find the best anti aging CBD Serum?
Thinking about using CBD to improve the quality of your skin and reduce the signs of aging? Then you should know that not all products in this booming industry are made the same. There are a number of factors at play. Let's delve further.
Topical products containing CBD rarely come with any side effects. However, it can be tricky to know which product to purchase. When searching for the best CBD product for reducing the signs of aging, there are a few things to keep in mind:
Lab results – When looking for the best anti aging CBD oil on the market, you want a product that you can trust. As such, you want to purchase from a CBD company that publishes regular third-party laboratory results.
Ingredients – Like with all cosmetic items, it's paramount to check the label before applying to your skin, especially if there are specific ingredients you may have a reaction to.
Price – It goes without saying that the best products can be expensive, but that doesn't mean paying more than you should. With that said, can you really put a price on younger looking skin? Some CBD products are well worth the price tag.