Just like humans, our pet dogs have endocannabinoid systems. By giving our canine-friends the best CBD dog treats, we can positively affect inflammation, pain, mood, motor control, and much more. Without further ado, here are our best CBD dog treats for pain and inflammation:
With a delicious apple & cinnamon flavour and 3mg of CBD in each treat, these are our best CBD dog treats for pain. In an industry that can be confusing to newcomers, we love that KingKanine provide useful information on all product pages. Furthermore, KingKanine provide laboratory reports for their products. These tests show that KingKalm treats contain 0% THC content, meaning they are safe to give to your dog. The treats are gluten free, made from organic ingredients, and act as an excellent source of macro/micro nutrients. Full product information can be found on their website.
Ingredients: CBD, Gluten Free Stone Ground Oat Flour, Organic Apple, Cinnamon, Turmeric, and Black Peppercorn.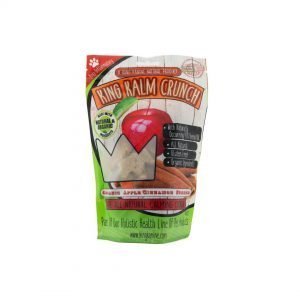 This buyer's guide is frequently updated with the latest and best CBD dog treats for pain. Unfortunately, even our canine-friends can't escape the pain and inflammation associated with conditions like arthritis. Fortunately, CBD works as an effective pain-reliever for dogs. CBD works by interacting with the CB1 and CB2 receptors in our pet's Endocannabinoid System (ECS). As part of the ECS, these endocannabinoid receptors are found in all key bodily systems. Thus, allowing cannabidiol to give your dog relief from pain and other conditions.

How to find the best CBD dog treats?
Want to improve your dog's health with CBD? Maybe your dog is suffering from joint pain? Then you should know that not all CBD products for dogs are made the same. There are a number of factors at play. Let's delve further.
Whether you want to use CBD for a specific condition or just want your pet to take advantage of the CBD oil health benefits for dogs, the quality indicators are basically the same. With that said, additional ingredients can make one CBD product better than another CBD product for specific conditions, like pain in dogs.
There are many reasons to experiment before deciding on the best CBD dog treats for pain and inflammation. The cannabinoid compound is typically safe for pets, and comes with few side effects. However, with so many products on the market, we recommend picking one that is specific for dogs. When searching for the best CBD dog treats, there are a few things to keep in mind:
Lab results – When looking for the best CBD dog treats for inflammation, you want a product that can be trusted. As such, you want to purchase from a CBD company that publishes third-party laboratory results on a regular basis. These results allow consumers to see that the product can be trusted and used confidently.
Ingredients – It's paramount to check the label of all products that we give to our pets.
Price – Just like with every product, you don't want to be paying over the odds for your CBD dog treats. With that said, can you really put a price on a happy dog? Using the best CBD dog treats can sometimes cost more, but it can be worth the worth it.