CBD gummies are fast becoming one the most popular methods of taking CBD. These tasty-treats provide CBD users with an easy way to medicate themselves, but what are the best CBD gummies for sleep and relaxation.

Typically, gummies contain 10mg of cannabidiol, along with the inclusion of other relaxing ingredients. All products in this buyers guide come from reputable manufacturers that only use the very best cannabidiol. Without further ado, here are our recommended CBD gummies for sleep.
With a HUGE array of edibles in their store, CBD Infusionz offers some of the best CBD gummies for sleep that money can buy. When purchasing CBD Infusionz Gummies you have the option to purchase Regular (CBD only) or PM (CBD gummies without melatonin). All items come in the follow CBD strengths: 100mg, 200mg, 600mg, or 1200mg sizes. Meaning Infusionz offer some of the strongest CBD gummies. Full information can be found on their website. Our personal favourites are the blue sour sodas – yum! 
If you want edibles that you can depend on, Chill's Gummy bears are a wise choice – With loads of product lab studies available to read, you can have utmost confidence that what you're buying actually does what it is supposed to. Made from industrial hemp cannabidiol (CBD), Chill's Gummy Bears also include melatonin, making them the best CBD gummies for sleep.
If you're looking for the best CBD gummies for anxiety at night-time, and you love juicy watermelon (who doesn't?), then you'll love these CBD-infused watermelon slices.
It will come as no surprise that the Relax Gummies were made with one goal in mind – Relaxation. That's why the two main ingredients are industrial hemp cannabidiol (CBD) and melatonin
This buyer's guide is frequently updated with the latest and best CBD gummies for sleep and relaxation.
One of the most common questions we receive at CBD Authority is "will CBD help me to sleep better". If you're reading this, chances are you want to know the same thing. That's the point here. You're not alone. In fact, recent reports suggest that  30–35% of adults in the United States are showing symptoms of insomnia.
Now, there's a long list of reasons why so many are struggling to sleep. With many of us leading busy lives, stress is one of main culprits of modern-day insomnia. In fact, stress and anxiety are the reason why we suffer in many areas of life. If only we could find a find to reduce stress, and promote calmness instead.
The evidence suggests that CBD can promote better sleep!
With a huge increase in usage, CBD is capturing a great deal of scientific attention for its health benefits. This research has uncovered that CBD does promote better sleep, although it does so indirectly. Carry on reading to find out how.
Stress and anxiety are the main culprits of modern-day insomnia. In fact, stress and anxiety are the reason why we suffer in many areas of life. Fortunately, there may be a way to reduce stress, allowing you to sleep calmly. And no, I'm not talking about drinking the night away in the local club!
The CBD way! Through years of study, we know that CBD interacts with receptors in the brain. Through these interactions, CBD appears have a calming effect that allows users to experience better sleep cycles.
Studies show that when CBD interacts with the brain's ECS receptors, cognitive functions improve, allowing the brain to more effectively respond to stressful situations.
By improving the brain's capacity to respond to stressful situations, CBD helps alleviate current stress levels, while serving as a preventative measure against future stress. Essentially, CBD can combat insomnia by positively impacting how users deal with stress.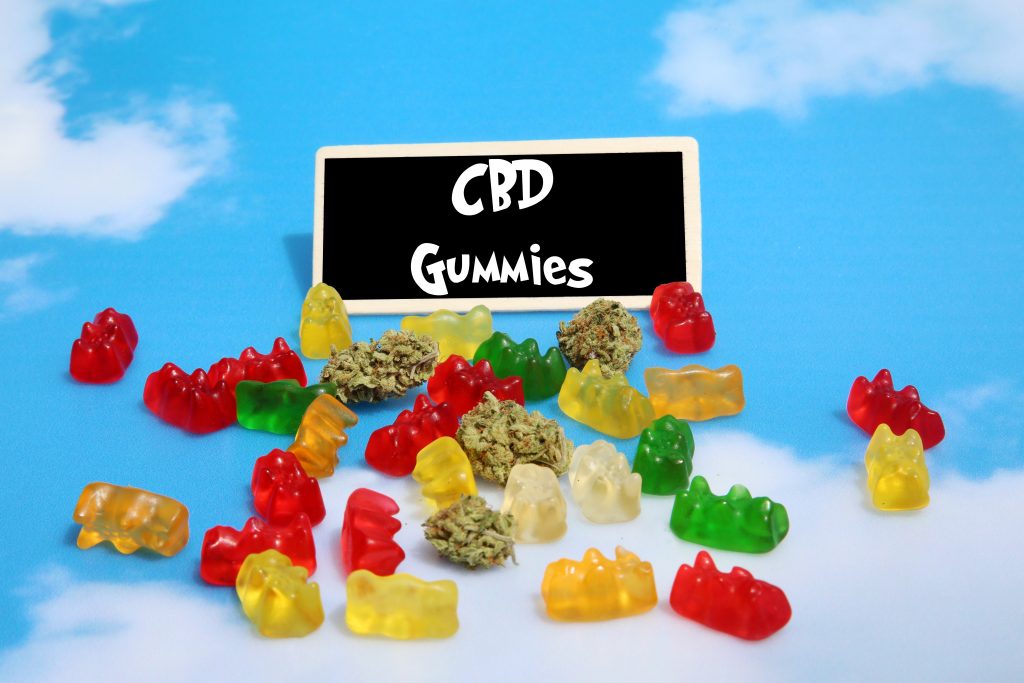 How to find the best CBD gummies for sleep ?
Thinking about using CBD gummies to help you sleep? Then you should know that not all products are made the same. There are a number of factors at play. Let's delve further.
Whether you want to use the best CBD gummies for sleep or just want to take advantage of the many cannabidiol health benefits, the quality indicators are basically the same. With that said, additional ingredients can make one CBD product better than another CBD product for specific conditions, like insomnia. For example, if you are looking for the best gummy bears for sleep, the addition melatonin can help defeat insomnia. 
There are many reasons to experiment before deciding on the best CBD gummy for relaxing before sleep. The cannabinoid compound is typically safe, and rarely comes with any side effects. However, it can be tricky to know which CBD gummies to purchase. When searching for the best CBD gummies for insomnia, there are a few things to keep in mind:
Lab results –When looking for the best CBD gummy products for sleep, you want a product that you can trust. As such, you want to purchase from a CBD company that publishes regular third-party laboratory results. These results allow consumers to see that the gummies can be trusted and used with utmost confidence.
Ingredients – It's paramount to check the label on all CBD products before using, especially if there are specific ingredients you may be allergic to. Some CBD gummies can contain trace levels of THC, which some people may want to avoid.
Price – As with all products, you don't want to be paying over the odds. With most CBD products already being rather expensive, you don't want to be paying more than you should be. With that said, can you really put a price on a good night sleep? Some CBD gummies are worth the price tag.
Whether you prefer sour sweets or the taste of juicy watermelon, all CBD-infused sweets in this "best CBD gummy review" is designed to make it easier to relax. Happy shopping!